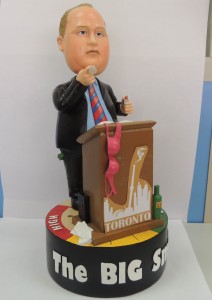 Celebrity voice impersonator Val Anderson has broken the 'toy barrier' once again with the new talking "Mayor Rob Ford" bobble-head doll. Having nailed the Mayor's voice "Spot-on" according to the Mayor's staff responsible for overseeing the production of this little gem. Doing celebrity voice impersonation is Val's specialty.
Having voiced 5 toys to date, Val was contacted by the staff in Toronto to audition for a voice impersonation of Mayor Ford's voice in a realistic, yet fun way. The challenge was on!
Mayor Ford's antics continue to entertain the media and the citizens of Toronto, so it's a good bet the "Mayor Rob Ford Talking Bobble-Head Doll" will be a big hit when it is released in early March, 2014.
Holding a crack-pipe in his right hand, and a lighter in his left, this novelty will be a scream when it hits the streets in Toronto! A lot of work went into the "Mayor Rob Ford Talking Bobble-Head Doll" on the part of those who helped to design and produce the Rob Ford talking figure, namely Joyce Crawford, who basically produced the projesc in Montreal.
Here's a picture of the prototype piece.  The "Talking Mayor Ford Bobble-Head Doll" is to be released in March 2014.